What We Do
JigTech Enterprises is engaged in manufacturing of precision machined parts , Jigs & Fixtures , Moulds, Die's , all types of Valves , Precision Batch and Mass production Works.
We undertake Precision, CNC Turning, VMC with 4th Axis, CNC Drill Tap Centre, Cyl Grinding (2meter Length X 540 Ø), Turning, Milling, Drilling, Jig Boring, Tool & Cutter and Surface Grinding works for all type of engineering components such Jig and Fixtures, Die, Moulds, Precision Batch and Mass Production & Fabrication works.
The WMW Jig Boring m/c 1600x800mm of JigTech Enterprises can do all types of Boring (angular holes as well) at the least count 0.001 Microns. It is well equipped with a work force of 20+3(Staff) employees capable of doing sorts of activities and have necessary inspection facilities and machinery's.
How we do
As our result of our capabilities, we can offer our customer higher value, better performance, faster turn around, consistency and high quality product.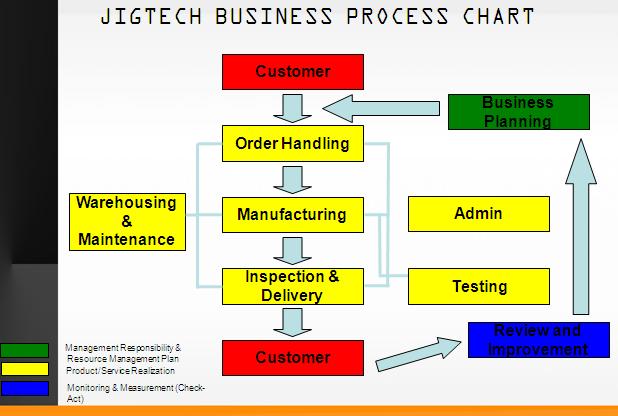 Our Manufacturing capacity
We are well equipped Tool Room with absolute in-house facilities like Manufacturing , Material handling and Inspection
| Sr. No. | Machines/ Equipments | Make |
| --- | --- | --- |
| 1 | CNC Turning (LL20 x 260 Ø) | LMW |
| 2 | Smart Turn (160 Ø) | LMW |
| 3 | VMC Chakra with 4th axis (250 Ø) Ucam Make | BFW |
| 4 | Cyl Grinding (2 Meter X 540 Ø) ID/OD | German |
| 5 | Cyl Grinding ( 600 X 250 Ø) ID/OD | German |
| 6 | Surface Grinding | India |
| 7 | W.M.W. Jig Boring-Vertical | German |
| 8 | Houser Jig Boring | Switzerland |
| 9 | SIP Jig Boring | Switzerland |
| 10 | MITR | ManFord |
| 11 | Heavy Duty Milling Machine with DRO | German |
| 12 | Milling Machine | HMT,BFW |
| 13 | CNC Machine(Tape Center) | Fanuc |
| 14 | Lathe Machine | TMT (Navdeep) |
| 15 | Drilling Machine(PMW) | TMT |
| 16 | Bench Grinder(0.5HP) | Rajlaxmi |
| 17 | Bench Grinder | Master Grinder |
| 18 | Co2 Welding Machine | Sai Arc |
| 19 | Arc Welding Machine | Sai Arc |
| 20 | Multi Spindle 4 Drill Machine | TMT |
| 21 | Multi Spindle 4 Tap Machine | TMT |
| 22 | Multi Spindle 2 Drill Machine | TMT |
| 23 | Multi Spindle 2 Tap Machine | TMT |